The Collaborative Way® is an intentional and designed way of working together that harnesses the collective intelligence, imagination and spirit of a company's workforce.
When put into practice, this unique methodology offers a critical strategic advantage, even in highly competitive markets and against companies with more funding and greater resources.
The Collaborative Way
®

App Free Offer!

Are you ready to take the next step in your journey to creating an extraordinary team? If so, we'd like to offer you free access to the first section of the The Collaborative Way® App!

In this first section, you and your teammates will learn what it means to take on and practice The Collaborative Way, and you'll have the opportunity to take the TCW Team Survey, which you can use to determine your team's strengths and weaknesses in collaboration. We're confident that you'll discover new ways to elevate your team's performance just by going through this first section. 

Click "Discover more" to learn more about the TCW App or click "1st Section Free!" to register for free access to the first section.
Lloyd Fickett & Associates works with you to develop a core leadership group that is actively learning and practicing The Collaborative Way®. We then support you in spreading the practice throughout your company, giving you the capability to train and develop this way of working into the future with or without our further involvement.
Our clients are owners of successful companies who have high integrity and a personal commitment to building a great company. In their own words, our clients share the impact The Collaborative Way® has had on their companies…click here.
Contact us to explore how
we can support you in producing extraordinary results in your company.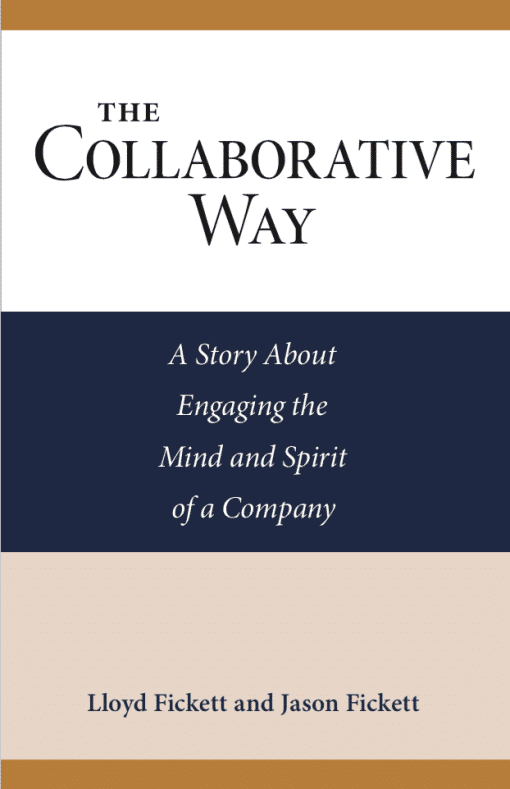 A Story About Engaging the Mind and Spirit of a Company
This long-requested book by Lloyd Fickett and Jason Fickett illustrates the power of The Collaborative Way®. This story explores each principle and let's you see this designed way of working together in action. This informative introduction to the principles provides a very illuminating and powerful contribution to support your Collaborative Way® practice.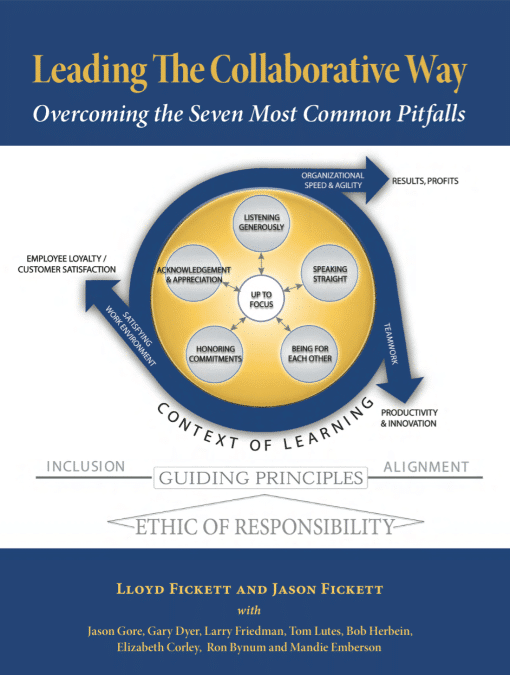 Overcoming the Seven Most Common Pitfalls
This book is based on 20 years of experience in supporting companies in using The Collaborative Way® to gain a significant competitive advantage. It covers in depth each of the seven most common pitfalls when taking on The Collaborative Way® and provides invaluable support in overcoming these pitfalls. Each chapter has an additional co-author, many of whom are executives in companies practicing The Collaborative Way®.
New Video!
Lloyd spoke with Meredith Bell on her podcast, Grow Strong Leaders, and in this excerpt from their conversation, he looks at the ways in which our listening impacts both what we can hear and what other people say. You can check out the rest of their conversation at the Grow Strong Leaders website: https://growstrongleaders.com/lloyd-fickett/.
"Our industry is tough and demanding, and yet we have created a unique culture where we respect one another while constantly pushing toward taking on the challenges and changes necessary to become and remain the best. The Collaborative Way® gives us the tools to accomplish this. Without it we would not be as good a place to work and we would not be nearly as good at what we do."
We all come to the workplace with different backgrounds and expectations about how we're supposed to work together. As a result, we are prone to ineffectiveness, misunderstanding and upset. In order to create an environment conducive to collaboration, we need to design and take on learning an intentional way of working together. Read more.